This air fryer cornish hen recipe is one of my favorite air fried food to cook on weekends. This recipe is simple and quick which the whole family can enjoy!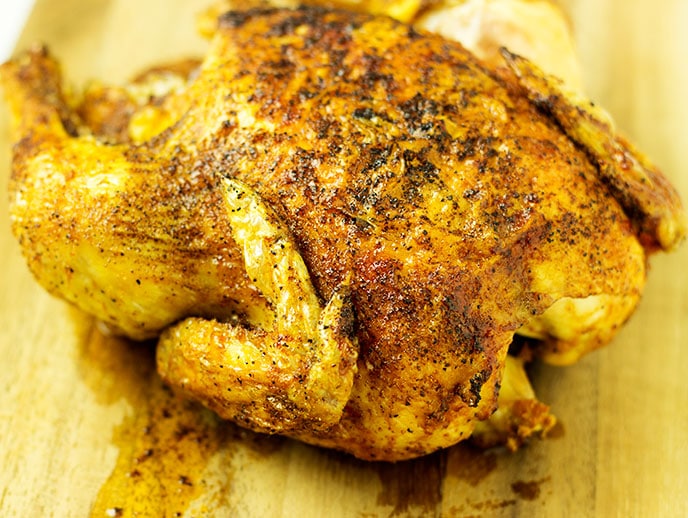 When I was a kid, my mom liked to make us Cornish Hens. They were one of my favorite meals growing up, and she knew it. Every time someone had a birthday, graduated, got engaged, or announced a pregnancy, my mom would have Cornish Hens waiting for me at dinner. Cornish Hens were a big part of my childhood.
On my mom's birthday, I bought her an air fryer. A week later, my mom invited my wife and kids to dinner with her. Sure enough, she served Cornish Hens. This time, she air-fried the Cornish Hens! They were better air-fried than they were in my childhood. It took some convincing, but I got the recipe out of her. I never went back.
Can you cook a frozen cornish hen in an air fryer?
Yes, you can though, it's a lot easier to cook it when it's thawed first. As long as it's not cooked in the microwave or a slow cooker, you can cook frozen cornish hens however you want.
How do you know when a cornish hen is ready?
It depends on how scientific you want to be that day. If you have a meat thermometer, the hen needs to be at least 165 degrees Fahrenheit. But who has time for that? We're hungry now!
If you don't want to wait for your meat thermometer, you can cut in the thigh and look at the juices. If they're clear, it's dinner time. The skin should be golden brown, too.
What do you eat with cornish hens?
When I was growing up, my mom cooked potatoes and carrots on the side to go with our cornish hens. However, you can have more than that if you don't like those vegetables. You can have any of these vegetables with your hen.
sweet potatoes
carrots
potatoes
asparagus
onion
rice
mushrooms
Whatever you want to go with your hen is up to you.
What makes an excellent cornish hen recipe?
When I cook a meal, I make sure everything I use is the best. I want to make sure everything is flavored perfectly with the right blend of seasonings. The seasoning is simple in this recipe. But it's what you need to make your dinner go from pretty good to fantastic. You need to make sure you have the right blend, though, cause seasoning could ruin your meal, too.
When looking for your meat, you want to make sure it's fresh. It's okay if you buy frozen meat, but you'll need to factor in time to thaw out your hen if you choose a frozen one. Using a fresh hen will make it easier to put on the seasonings.
The simplicity of the recipe is the highest selling point for me. Usually, my wife does all of the cooking. But when I want to pamper her, a simple meal like this will make her day. It's so easy; even I can cook it with no problems. The kids love it too!
OTHER RECIPES YOU'LL LOVE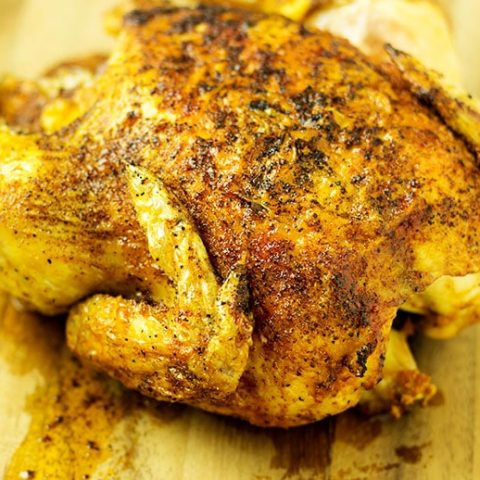 Air Fryer Cornish Hen
Air Fried Cornish Hen Ready In Just 40 Minutes
Ingredients
1 Whole Cornish Hen
1/2 tsp Salt
1/2 tsp Ground Black Pepper
1/2 tsp Garlic Powder
1/2 tsp Paprika
Olive Oil Spray
Instructions
Preheat your air fryer. Then, spray the basket with the olive oil cooking spray.
Mix the salt, pepper, garlic powder, and paprika into a small bowl. Then, rub it on your cornish hen. Make sure every inch of your cornish hen has plenty of seasoning on it.
You want your air fryer set at 370F. Place your cornish hen in the air fryer for twenty minutes.
After twenty-five minutes, flip the hen and cook the other side for another twenty minutes.
Take out the hen and set it on a plate. Let it rest for five minutes before serving.