This quick and delicious air fryer hash browns is one of my favorite foods to air fry. My family absolutely loves them and can be eaten as part of breakfast or snack.
Can you air fry frozen hash browns?
Yes, you absolutely can air fry frozen hash browns. In a few simple steps, you can have crispy and delicious hash browns. Mix seasoning with frozen hash browns. Pour hash browns into the air fryer basket. Set temperature at 400F for 10 minutes.
Scroll down below for the detailed step by step instructions and bonus tips.
Are frozen hash browns precooked?
They are partially cooked meaning the shredded potatoes have been steamed and then individually frozen. For food safety, internal temperature should be at 165F.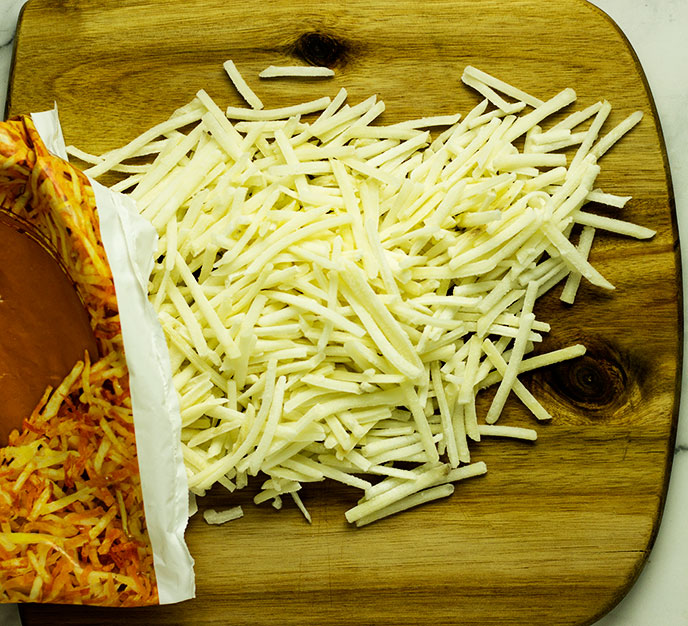 Should you thaw frozen hash browns before cooking?
There is no need to thaw frozen hash browns. You can air fry them frozen and still have it come out crispy.
Do air fryers make food crispy?
Yes, air fryers do a great job producing crispy outside or crust while keeping the inside tender and juicy.
*While air fryers can cook food quickly, if time or temperature is not set correctly it can result in an overcooked and dry food. If unsure how long to air fry, I always check halfway through cooking time.
How do you make hash browns not soggy?
I always use frozen hash browns for air frying. Freezing helps release moisture out of the potatoes making it easier to make them crispy and not soggy.
What kind of potatoes are best for hash browns?
If you are looking to make hash browns from scratch, I suggest using Yukon Gold potatoes which hold their shape well after being cooked.
How long do you air fry hash brown patties?
It will depend on the size of your air fryers and how many patties you are cooking at one time but normally I would air fry them for about 10 minutes at 400F. Flip hash brown patties halfway through cooking time for even crispiness on both sides.
OTHER RECIPES YOU'LL LOVE
Air Fryer Hash Browns
Crispy and delicious air fried hash browns
Ingredients
1/2 bag Frozen Hash Browns
1 tsp Garlic Powder
1 tsp Paprika
Salt and Pepper, to taste
Nonstick Cooking Spray
Instructions
In a bowl, place frozen hash browns and add garlic, paprika, salt and pepper. Mix to combine ingredients.
Spread a thin layer of frozen hash browns on the air fryer basket. Spray a little bit of nonstick cooking spray. Depending on the size of the air fryer, you may need to do this in two batches.
Set temperature to 400F for 10 minutes.