Every weekend, our family tries to treat ourselves with "something special" to make a weeknight meal feel a little more festive than usual. My grandma Eleanor loves cheese and often brings along a jar of authentic tirokafteri dip and other cheese sauces with unique ingredients. But our all-time favorite would definitely be her no-frills and authentic tirokafteri recipe address any and every queso craving we have for our weeknight family gathering.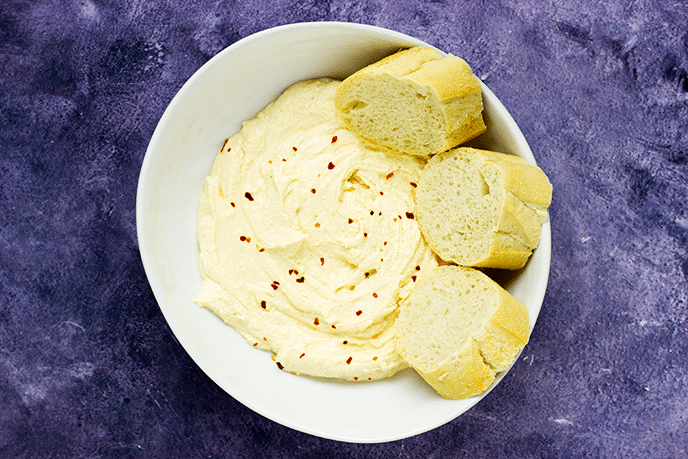 Passed down from generation to generation, our family has a wide variety of tried-and-true favorite recipes that we still love today. Among those dishes, my grandma's tirokafteri dip owns a special place in my heart and will always remind me of my grandma's kitchen.
How is feta cheese made?
Feta is made from whole sheep's milk or a combination of goat's milk and sheep's milk. This soft cheese is cured in a salty brine, and its flavor becomes sharper and saltier as it age.
Is feta cheese healthier than cheddar?
Feta cheese is a low-calorie, low-fat cheese, and contains fewer calories than cheddar or parmesan cheese. It also contains more B vitamins and calcium than other types of cheese like ricotta, mozzarella, goat cheese, or cottage cheese.
Can feta cheese be placed in the refrigerator?
Fresh feta would always be tastier and have a more pleasant texture compared when you freeze and thaw it, so using it fresh is the best option for you.
What goes well with tirokafteri?
This dip works great as part of a small sweet pepper stuffing. It is also ideally served with pita, meat, radish slices, cucumber, crackers, or even breadsticks. Feel free to experiment and dip different things in it depending on your personal preference.
How many calories does this dip have?
The rough calorie count of this dip would be around 60 calories per serving.
How long is the shelf life of a tirokafteri dip?
This dip can stay fresh for up to four (4) days in a sealed container.
What Makes a Good Tirokafteri Recipe?
As its name suggests, tirokafteri means "spicy cheese" which means the cornerstone ingredient of this recipe would include a generous portion of cheese and spicy ingredients to do the trick. To make a good tirokafteri recipe, there is great importance in choosing the kind of feta cheese you use. Barrel-aged feta cheese is a staple for many people as it gives feta a unique flavor, just like how the taste of wines improve as they age.
Another tip for spice-enthusiasts, you can place your chillies in the oven for 10-15 minutes, place them in a zip-bag or any closed bag to make them sweat and peel them after a few minutes. This will make the chillies more tender and would compliment the dip even better.
We also suggest to warm up the feta cheese in the oven a little bit prior to putting it in the food processor, as it helps with the overall creaminess and consistency of the tirokafteri dip. But do note that this step is not crucial, so if you're in a hurry you can simply skip this tip and crumble the cheese into the food processor.
And lastly, to achieve the perfect tirokafteri consistency, you can also add some milk when mixing the feta cheese along with the spices. The milk will help in making the consistency smooth, but will still allow the dip to have that feta cheese texture.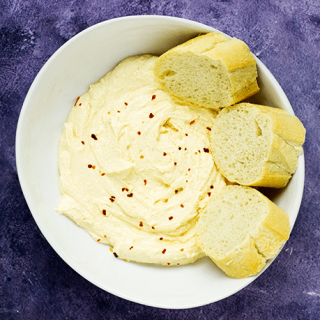 Authentic Tirokafteri Recipe
Delicious authentic tirokafteri recipe in 5 minutes!
Ingredients
10 ounces Feta Cheese
200 grams Greek Yogurt
2 tablespoon Olive Oil
2 Roasted Peppers
1 teaspoon Red Wine Vinegar
1/2 tsp Chili Flakes
Instructions
After you have collected the ingredients, mix the feta cheese and yogurt.
Mash both ingredients until it turns into a grainy-paste texture.
When the mixture is ready, add the red wine vinegar, olive oil, and chili flakes.
Then put the mixture inside a food processor along with the roasted pepper (remove the seeds.)
Transfer the mixture into a container and refrigerate it for an hour before serving.