Smoked boston butt can take 12 hours or more to make. However, in the end, you will say it's well worth it. This easy to make recipe for smoked pork butt uses simple ingredients to create fall apart goodness. Smoked shredded pork is one of those foods you can serve or use in so many ways.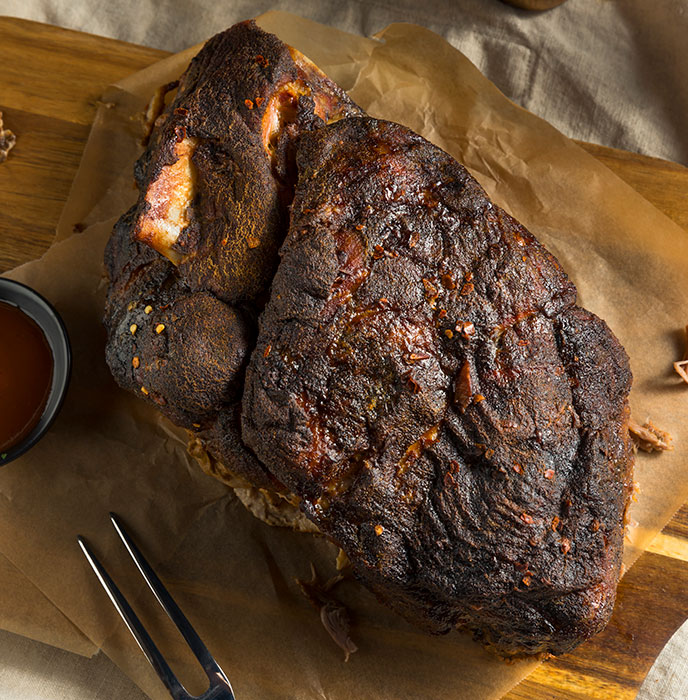 Some days are busy and I don't have time to make an elaborate meal. Taking something already prepared out of the fridge or freezer and making a quick meal out of it does the job. For example, a large smoked pork butt turns into an abundance of shredded meat. Use some for a meal the day you smoke it, and save the rest for a few quick meals later on.
I use shredded pork to make quesadillas, sandwiches, carnitas, and tacos. It's the perfect addition to baked beans, pasta dishes, and even omelets. The uses for it are many. So, when you are going to the trouble of smoking meat to perfection for 12 hours or more, make sure you make enough to get several meals out of the deal.
What Makes a Good Smoked Boston Butt Recipe
A pork butt roast is actually the top part of the pork shoulder. It usually weighs 6 to 8 pounds, though it's usually easy to find larger ones. Look for firm meat and an even layer of fat.
Selecting a good pork butt means going bone in. The bone adds flavor to the meat as it cooks. Of course, you can smoke a boneless pork butt. However, the flavor won't be as robust as it is with the smoky tang.
Your selection of wood also makes a difference in the flavor of your final product. The classic BBQ flavor many associate with smoked pork butt is hickory, which is what this recipe uses. You can also add a bit of cherry wood for a sweeter taste.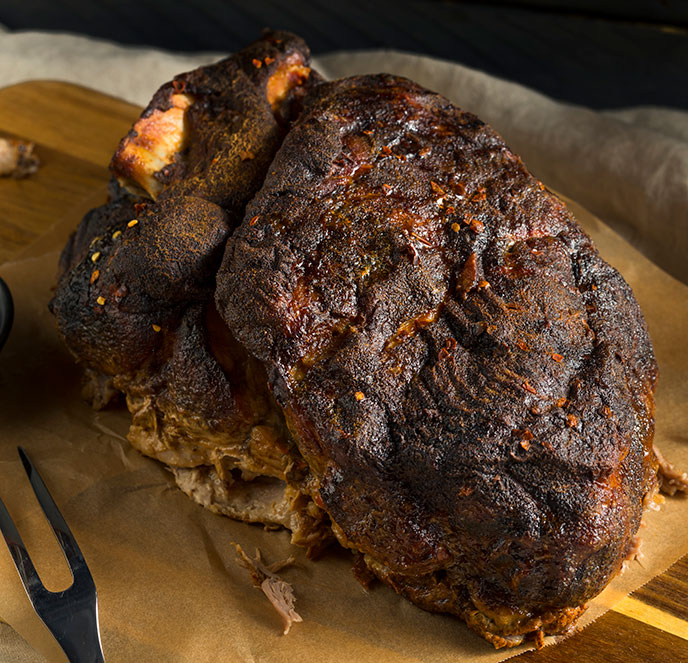 OTHER RECIPES YOU'LL LOVE
Smoked Pork Butt
Total Time:
1 day
13 hours
Tender and delicious smoked pork butt
Ingredients
8 lbs Bone In Pork Butt
1/2 cup Prepared Yellow Mustard
1/3 cup Ancho Chile Powder
2 cups Apple Juice
2 cups Apple Cider Vinegar
Rub
1/4 cup Paprika
1/4 cup Sugar
2 tsp Chili Powder
2 tsp Cayenne Pepper
2 tsp Ground Cumin
Instructions
Prepare the pork butt by covering it with a generous coating of prepared mustard. Sprinkle a copious amount of rub into the mustard coating. Make sure pork butt is thoroughly covered. Cover and refrigerate overnight.
Remove pork from refrigerator. Keep the cover on it and let it stand for 30 to 60 minutes. Remove cover. Do not rinse meat.
Preheat smoker to 200°F, using hickory wood.
Add a generous coating of ancho chile powder to the outside of the meat.
In a large bowl, add the apple juice, vinegar, and salt. Combine thoroughly. Fill a meat injection syringe with the apple juice mixture. Inject the pork with this mixture at several points. Continue adding until it will hold no more.
Place prepared pork butt in the smoker. Smoke for 11 hours. Remove the pork butt from the smoker.
Increase the smoker's temperature to 275°F. Wrap the butt tightly in two layers of heavy-duty aluminum foil. Cook for 1 1/2 hour more, until meat reaches 205°F. It's done when the meat has a dark, firm bark, and the blade bone is loose and the meat pulls apart with ease.
Let meat rest and cool for 1 hour. Use two forks to shred the cooked pork. Remove bone and gristle as you go. Serve warm.