Seeing the words smoked and sweet next to each other can seem odd but I can assure you it's not. Smoked sweet potatoes have been one of my favorite things to cook for me and my family. These can make for some great dessert after dinner.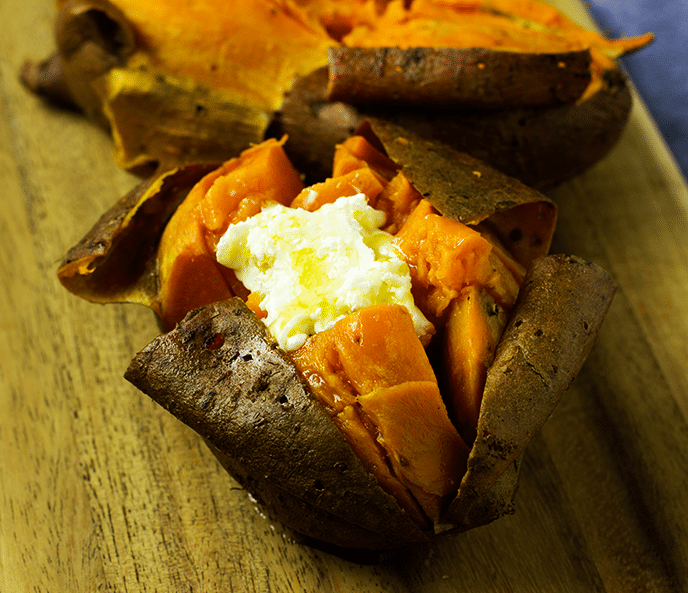 I made this for my wife on our anniversary and she fell in love with them. Every anniversary I make these for her. If you are trying to do something nice for your loved one or just want to make some tasty dessert, give this recipe a try.
How To Make Smoked Sweet Potatoes
In summary, making smoked sweet potatoes starts with rubbing oil and salt on the potatoes. Place in the smoker and smoke for about 2 hours. Once cooked, slice open and top with butter and honey.
For exact measurements of ingredients and bonus tips, scroll down to recipe section!
Can you smoke sweet potatoes?
Without a doubt! Again, this seems odd at first to smoke something sweet but you will see that this adds a great taste to the sweet potatoes. It takes around 2 hours to smoke them.
They aren't difficult to smoke either. Once you've smoked them for the first time, it will be like smoking any other food that you smoke.
Are sweet potatoes healthy?
They are certainly healthier than regular potatoes. Sweet potatoes have an abundance of healthy vitamins such as Vitamin A and Vitamin C. Still, although they are generally healthy to eat, there is a say that goes, "Too much of one thing isn't a good thing."
Follow this advice when eating sweet potatoes. They are healthy but don't go eating a bunch of them all of the time. That will take away a lot of the health benefits. Moderation is key.
What to eat with sweet potatoes?
There are plenty of things that go great with sweet potatoes. What makes them great is that they are great at any time of the day. Breakfast, lunch, and dinner can all have some meals that sweet potatoes can be included in. Some foods are salads, chicken, even pancakes.
I sometimes like to spread about a spoonful of sweet potatoes on top of my pancakes and pour some syrup over it. It's one of my favorite things to eat with pancakes. It's also a healthier alternative to using chocolate on your pancakes which is always a bonus when making food.
Another favorite of mine is some sweet potatoes biscuits. There's so many things sweet potatoes go well with. Be willing to try random combinations and I'm sure you will find something you like.
What makes a good smoked sweet potatoes recipe?
The quality of the sweet potatoes. Old and poor quality sweet potatoes have an off taste to them. Having some great quality sweet potatoes makes all the difference in the world in how they will taste.
You also have to consider the wood being used for smoking. Pecan wood works really well in my opinion and I would suggest using that. Pecan has a sweet and nutty flavor to it which works perfectly with sweet potatoes.
OTHER RECIPES YOU'LL LOVE
Smoked Sweet Potatoes
Total Time:
2 hours
10 minutes
Delicious sweet potatoes smoked to perfection!
Ingredients
4 large sweet potatoes
1/4 cup of oil
2 tbsp of salt
1 stick of butter
1 tbsp of sea salt
1/4 cup of honey
Instructions
Preheat your smoker to 250F along with the pecan wood.
Rub salt and oil over the sweet potatoes
Put the sweet potatoes in the smoker and cook for 2 hours.
Split the potatoes with a knife.
Top potatoes with a pat of butter. Sprinkle some sea salt and drizzle honey.