A friend of ours has been feeling a little under the weather, so last weekend my wife and I decided to bring over a warm, rustic mulberry cobbler recipe to help boost his spirits and immune system. This cobbler is bursting with sweet and tangy berries layered under a dense, vanilla cake-like topping. This homemade cobbler packs a punch against the winter blues, a soul-soothing throwback to grandma's home cooking with vitamin-packed berries.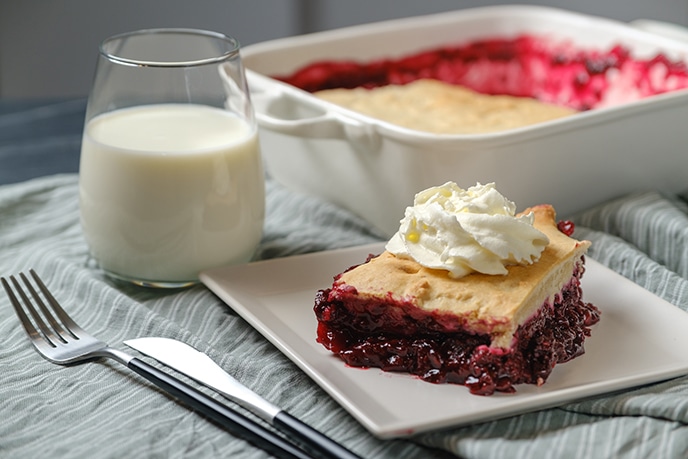 Our family made this together; it's a great recipe for young kids to help with. Ours were able to mix the berries and spoon the topping on to cobbler before baking. They don't mind eating it either, even though it's loaded with fruit.
We like to serve this warm, topped with vanilla bean ice cream or whipped cream, all year round. As the ice cream melts, it soaks into the warm cakey batter, each bite exploding with different flavors and textures.
Needless to say, our friend should be back to his old self in no time.
What Makes Something a Cobbler?
A cobbler is any dish with a rich fruit filling, topped with a batter or biscuit crust. For this one, we devised a topping that combined all the best qualities of a sweet vanilla cake batter and fluffy, flaky biscuit dough.
Does a Cobbler Have a Bottom Crust?
No, a cobbler only has a crust on the top. Instead of serving this as you would with a pie, you'll simply scoop portions of your cobbler into a bowl or plate with a big spoon.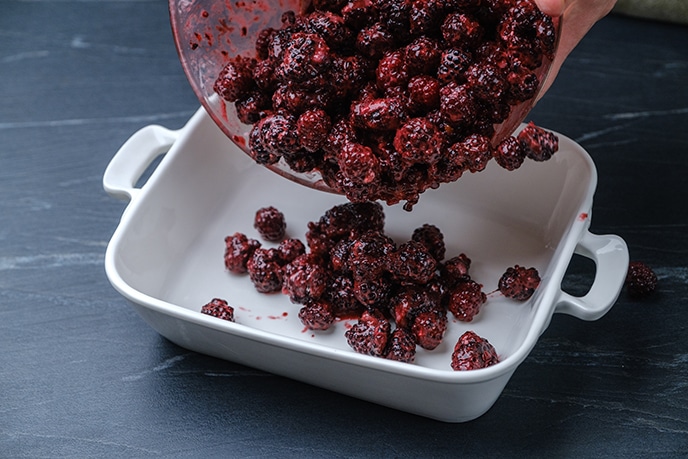 Should You Refrigerate Cobbler?
Technically, you can leave this unrefrigerated, but tightly covered, for up to three days. However, I recommend covering and storing it in your fridge. Chilled, it will last up to a week (if you can resist eating it all before then).
Is This Healthy?
Although I can't claim that the cobbler crust is a health-food, the berries inside certainly are. According to nutrition facts posted by Healthline, mulberries are a relatively low in calories, with only 43 calories per 100-gram serving. They are also packed with vitamins in minerals.
Mulberries are a good source of vitamin C, with each serving of this recipe coming in just over 11% of the average recommended daily value. They also contain antioxidant vitamin E and iron, which helps carry oxygen through your body. The list goes on with fiber, potassium, vitamin K and many other nutrients packed into each berry.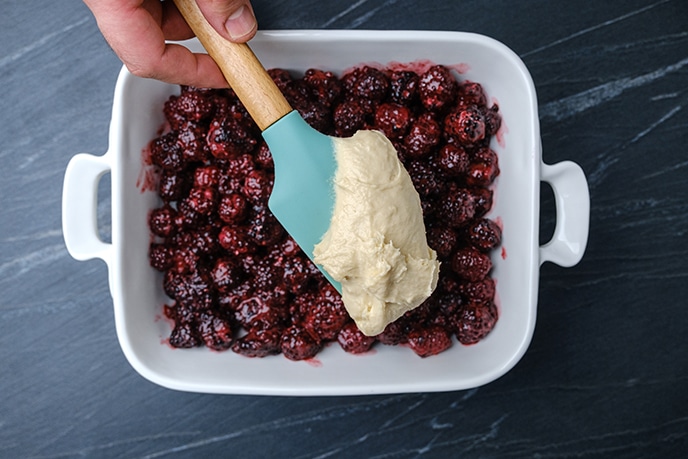 What Makes a Good Cobbler Recipe
The Sweet and Tangy Filling
One of the best things about this recipe is its flexibility. You can substitute any type of berry for mulberries based on what is available near you. For example, using strawberries makes a cobbler similar to a strawberry shortcake.
Other than the berries themselves, this filling has two game-changing ingredients. The lemon juice ever so slightly amplifies the natural acidity in the berries. Something about that fresh sweet, tart taste makes my mouth water immediately and keeps me coming back for second (and third) helpings.
The other secret agent in this dish is the cornstarch. You absolutely do not want to leave this out. As the cobbler cooks, the cornstarch soaks up all the juices from the berries, thickening them into a hearty filling.
Leave out the cornstarch and you'll have liquid sitting in the bottom of your dish. Trust me, you do not want to leave behind a single spoonful of flavor!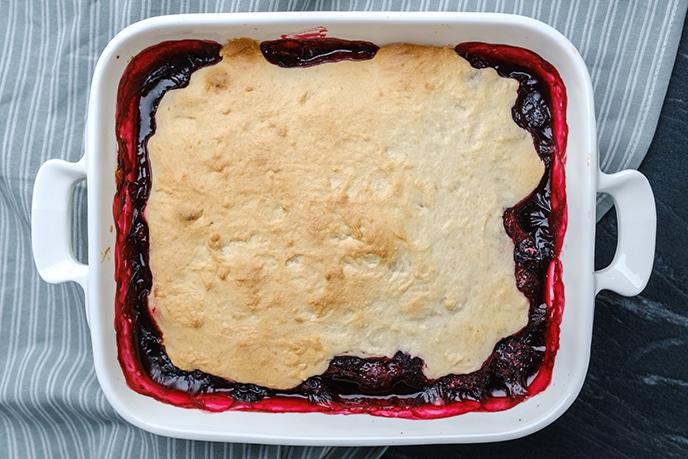 The Crust
As I mentioned before, this crust is a perfect blend of a cakey batter and biscuit dough. Creaming the butter and sugar, along with adding baking soda, creates fluffy bubbles which will be trapped inside the rich dense mixture created thanks to the creamy milk.
To get the right texture, you want to make sure all the ingredients for your crust are at room temperature. This makes sure all the ingredients blend nicely. If any of the ingredients are cold, the butter will firm up and you'll see chunks of butter throughout the batter instead of a nice, uniform dough.
The easiest way warm your ingredients is to let them sit out on your kitchen counter for 30 minutes or so. Just make sure you don't leave any perishables out of the fridge longer than 2 hours in colder temperatures or more than 1 hour if your kitchen is hotter than 90°F. You don't want anything going bad!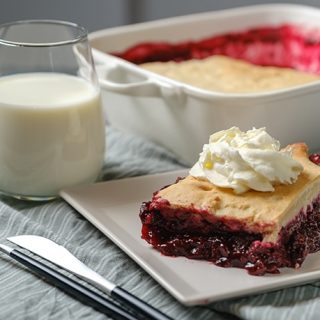 Mulberry Cobbler Recipe
Delicious mulberry cobbler recipe!
Ingredients
For The Berry Filling
8 cups mulberries (can be substituted with any other berry)
1/4 cup sugar
2 tbsp cornstarch
1 lemon (juiced)
For The Cobbler Topping
12 tbsp unsalted butter (softened)
2/3 cup sugar
2 cups flour
3/4 tsp baking soda
1/3 tsp salt
1 egg
1 tsp vanilla extract
1/2 cup whole milk
Optional Toppings
Vanilla bean ice cream
Whipped Cream
Equipment
Whisk
Electric Mixer
Medium and large mixing bowls
To bake as individual servings: 10 ramekins
To bake as one large cobbler: 9x13 pan or large cast iron skillet
Instructions
1. Prep
Preheat oven to 350°F before preparing the filling and cobbler.
2. Make the Berry Filling
Wash your berries and gently pat dry.
In a small or medium sized bowl, mix your berries with the sugar, cornstarch and lemon juice.
Place your berries in your pan, or divide evenly across the ten ramekins.
2. Make the Cobbler Topping
Set up your stand mixer with the paddle attachment.
In the mixer, combine the butter and sugar and mix until it becomes fluffy and lighter in color (about five minutes). Scrape down the bowl half way through mixing to make sure all butter is evenly incorporated.
Add the egg and vanilla to the butter and sugar mixture and mix for another 3-5 minutes. Again, scrape down the sides of your bowl half way through.
In your large bowl, gently mix the flour, baking soda, and salt with a whisk.
Add half of the flour mixture to the wet ingredients and pulse the mixer slowly until combined.
Add you milk to the mixture and stir slowly until fully incorporated
Add remaining flour and mix until combined. Scrape down the bowl before quickly mixing one last time
3. Assemble and Bake Your Cobbler
Using a large spoon or cookie scoop, place a scoop of dough on top of the berry mixture in your ramekins, or around the top of your large dish. You want to leave a little space between scoops and around the edge of your dish to let steam escape during baking.
Bake in your preheated oven for 20-25 minutes if using ramekins or for 40-45 minutes for the large pan. The cobbler will be ready once the crust is a golden brown and the berry mixture is bubbling.
4. Serving Your Cobbler
Let your cobbler cool for at least 15 minutes before serving and topping with vanilla bean icecream or fresh whipped cream.
Notes
*Butter, milk and eggs should be at room temperature*