Crispy on the outside and juicy on the inside air fryer drumsticks cooked in just 25 minutes. Once you've tried air frying, you'll never go back to deep frying again.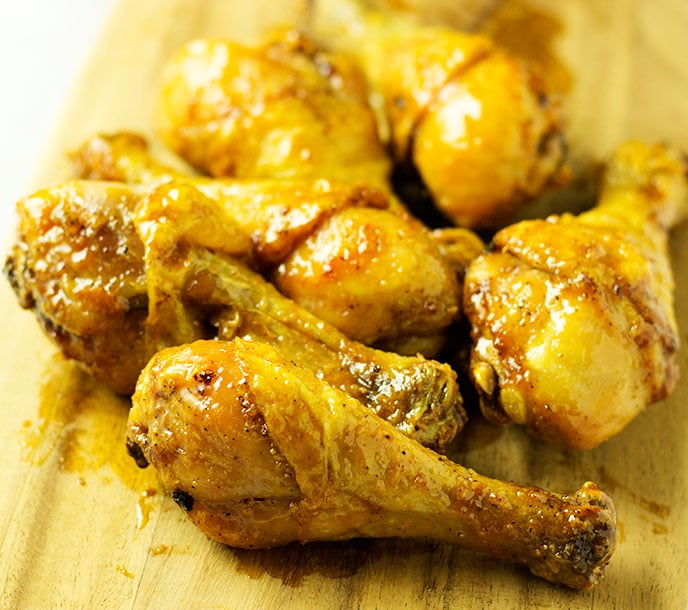 Can I air fry chicken legs with no breading and have it turn out crispy?
Yes, you can air fry drumsticks into a delicious and crispy chicken without the need of breading. The secret ingredient is baking soda that will dehydrate the skin and will result in similar crispiness of a deep fried chicken.
However, you'll need to follow a few more steps to ensure the chicken will turn out delicious. Keep reading…
When you think of fried chicken, most of you are thinking deep frying method. I am with you and thought the same until I've tried using an air fryer. Now I know you have a few questions regarding air frying, so I'll answer some of the common questions I get.
What is the right cooking time for air frying drumsticks?
350F for 20 minutes, then increase the temperature to 400F for 5 minutes to brown the skin.
Now, read my recipe instructions as you'll need to do extra steps to ensure even cooking.
Using an air fryer does not require preheating. Just turn it on and it will blast hot air to your set temperature. Okay, it might take a few seconds to a minute or so to get the air inside the air fryer to your desired temperature. Compare that to actual oil where you need to preheat it for several minutes. This cuts down the cooking time.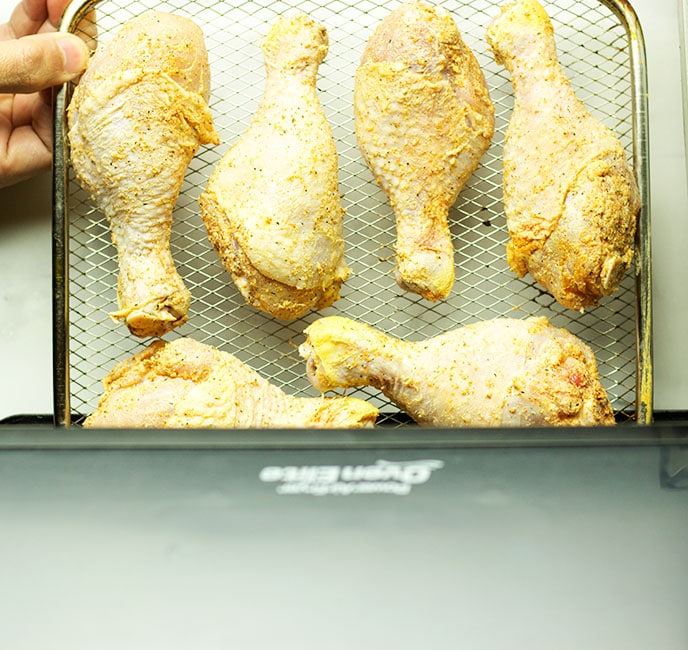 What about cooking frozen drumsticks in the air fryer?
Yes, you can air fry frozen chicken legs. Cooking time will be longer. You will need to add roughly 5-10 minutes of cooking time.
What glaze do I use on the air fried drumsticks? BBQ? Buffalo? None?
What is great about this recipe is that you can combine this with any sauce you like. I prefer to coat the chicken legs with a sweet glaze.
I've included my sweet sauce recipe with the instructions below so try it out!
So let's get cooking!
What Makes A Good Fried Chicken Drumsticks
A good fried chicken whether it is drumsticks, thighs, or breasts will have crispy and tasty coating or glaze on the outside while keeping the inside tender and juicy.
Most people will skip this step, but I always marinate my chicken before cooking. I brine my chicken with a simple salt and water mixture and soak it for several hours to overnight. This is the secret to deliciously moist fried chicken.
There are many variations of coating you can use on a chicken, but I find that a simple few ingredients will do the trick. See my simple recipe below.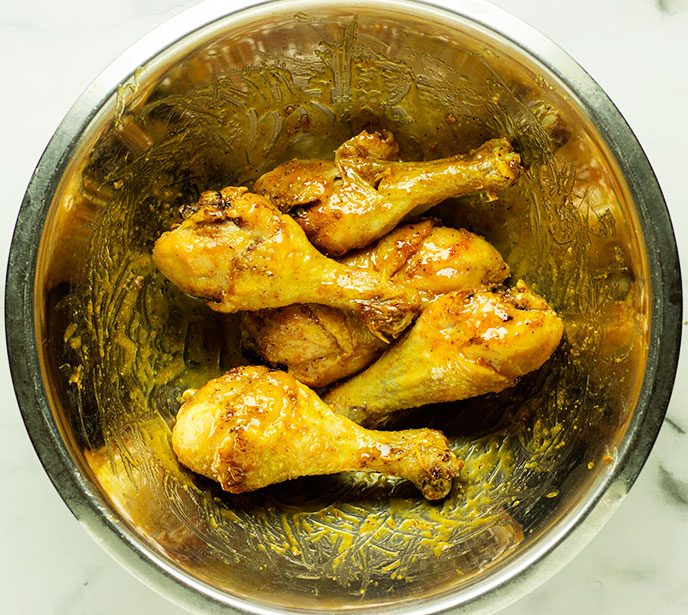 Can I air fry chicken drumsticks with panko coating?
Yes you can coat chicken legs with panko but you'll need to adjust the temperature and time as panko crust tend to burn quickly. This is why I prefer air frying drumsticks with no breading plus with the way I do it, it will turn out just as crispy!
How To Make The Best Air Fryer Drumsticks
Here are some tips that will make your air fryer drumsticks a success:
Let the meat sit at room temperature for about 1 hour. Don't cook the chicken straight from the fridge. This will cause uneven cooking.
Don't eyeball and guess if the chicken is fully cooked inside. Use a thermometer and make sure the internal meat temperature is at 165F.
Also don't overcrowd the air fryer. Leave space in between each drumstick to let the airflow circulate properly. Flip the chicken halfway through cooking time for even cooking.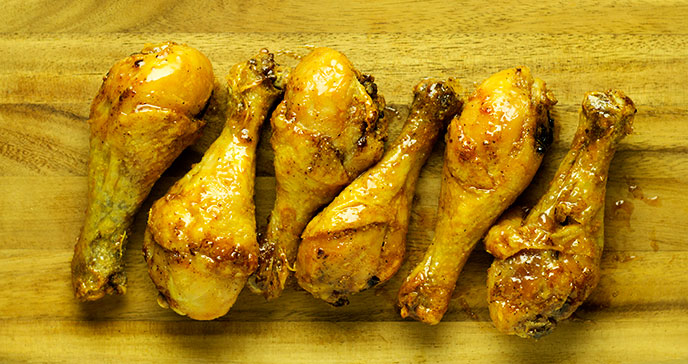 OTHER RECIPES YOU'LL LOVE
Air Fryer Drumsticks With No Breading
Total Time:
4 hours
25 minutes
Quick and easy air fryer drumsticks in just 25 minutes
Ingredients
6-8 pieces Chicken Drumsticks
1/4 tsp Salt
1/4 tsp Garlic Powder
1/4 tsp Ground Black Pepper
1/4 tsp Paprika
1 tbsp Baking Powder
Glaze
1/4 cup Honey
1 ounce Butter
1/4 cup Hot Sauce or Sriracha
Brine
4 cups Water
4 tbsp Kosher Salt
Instructions
Combine ingredients for brine and add the chicken drumsticks. Refrigerate for at least 4 hours.
Take chicken legs out of the brine. Dry each chicken drumsticks using a paper towel.
In a bowl, combine chicken drumsticks with salt, garlic powder, ground black pepper, paprika, and baking powder.
Place chicken legs in the air fryer without overcrowding. Leave space in between each chicken.
Set air fryer to 350F for 20 minutes. This will cook the chicken without burning the outside. Flip chicken at halfway cooking time. After the initial cooking, increase cooking temperature to 400F and cook for 5 minutes. The last 5 minutes is to brown the skin. Also flip chicken halfway cooking time for even browning.
In a hot pan, combine glaze ingredients and simmer for a 1 minute.
Pour glaze over chicken and mix. Serve hot.
EXPLORE MORE