The first time I ever had smoked chicken drumsticks was with my grandfather. The memory of the juicy and tender taste of the drumsticks has stuck with me since I first tried them all those years ago.
This is something I like to make for me and my family often and I think once you try this, it will be a regular recipe you prepare for your family.
In order to bring out the best in the recipe, I'm going to answer some questions that will help you bring some more flavor to the drumsticks.
How do you keep chicken moist when smoking?
It's pretty common for the chicken to dry out while cooking since it doesn't have as much fat as compared to some other meats. In order to prevent this, try brining the chicken before cooking. This will help the chicken retain some flavor as well as prevent it from drying out.
What's the best wood chips for smoking chicken?
Some people don't really think about which wood to smoke with. I can't stress enough how using good wood chips can greatly add to the flavor of the chicken.
Some of the most popular choices for smoking chicken are hickory, oak, and maple.
Just a heads up with the maple wood, it adds a sweeter flavor to the chicken. I just wanted to let some people know about this since some people don't really like having a sweeter taste to the chicken.
Hickory also adds a sweet taste but maple tends to add a sweeter taste. Some other options people opt for is cheery and applewood.
The reason for so many different choices people are using is because each wood compliments the chicken in a different way. Some make it sweeter, some add a smokey flavor to it. People have different taste preferences so what wood they use usually adds a certain taste they tend to prefer.
So what wood you use will depend on what your preference is.
Should I remove the skin from the drumsticks?
This is all personal preference. The skin should be fine while smoking and it even adds flavor to the chicken. Of course, if you are trying to consume fewer calories, you can remove the skin. But if that's not a concern for you, then I say leave it on. It adds to the overall taste which I enjoy.
What makes a good smoked chicken drumsticks recipe?
As mentioned earlier, the wood you are using will greatly determine how this recipe turns out.
Maple wood adds a sweeter taste to the chicken and while the hickory wood does the same thing, it also adds to a bacon-like taste to the chicken.
Oakwood goes great with almost anything so this can really make this recipe stand out.
This is why I always tell people to look into different types of wood to smoke with. It can make so many foods taste better.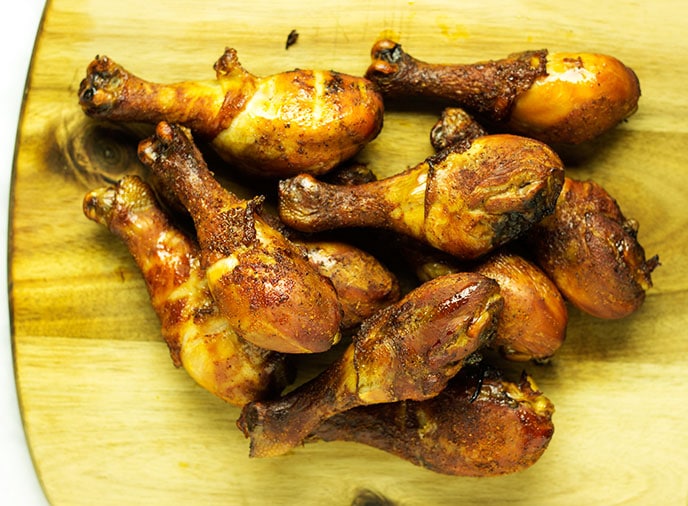 OTHER RECIPES YOU'LL LOVE
Smoked Chicken Drumsticks
Cook Time:
1 hour
30 minutes
Total Time:
1 hour
30 minutes
Smoked chicken drumsticks in 1.5 hours.
Ingredients
8 to 12 drumsticks
1/4 cup of light-brown sugar
2 tbsp of paprika
1 tsp of cayenne pepper
1 1/4 tsp of kosher salt
1/2 tsp of onion powder
1/2 tsp of garlic powder
1/4 tsp of freshly ground black pepper
Instructions
Mix together the salt, paprika, cayenne, garlic powder, onion powder, brown sugar, and pepper into a small bowl.
Grab some of your favorite wood chips, go to your smoke and preheat it to 250F. After that's done, add the wood chips.
Use the spice rub to generously season the chicken.
Place the seasoned chicken legs into the smoker and place on the smoker rack and smoke for about 1 1/2 to 2 hours. Once 45 minutes have gone by, check the temperature using a thermometer. The chicken will be done at 165F meat temperature.
EXPLORE MORE
This recipe isn't all that complicated. Once the chicken is seasoned, you are letting the smoker do the work while the wood chips are adding in extra flavor. This recipe can easily feed a family so don't be surprised if you find yourself making this a lot for your family.
It's honestly one of my favorite recipes and I hope you will feel the same way about it.