Brussel Sprouts are one of my favorite vegetables. Air frying is one of my favorite ways to cook vegetables. I decided to put two and two together to make an air fryer Brussel Sprouts recipe and I instantly fell in love with the results and so did my family.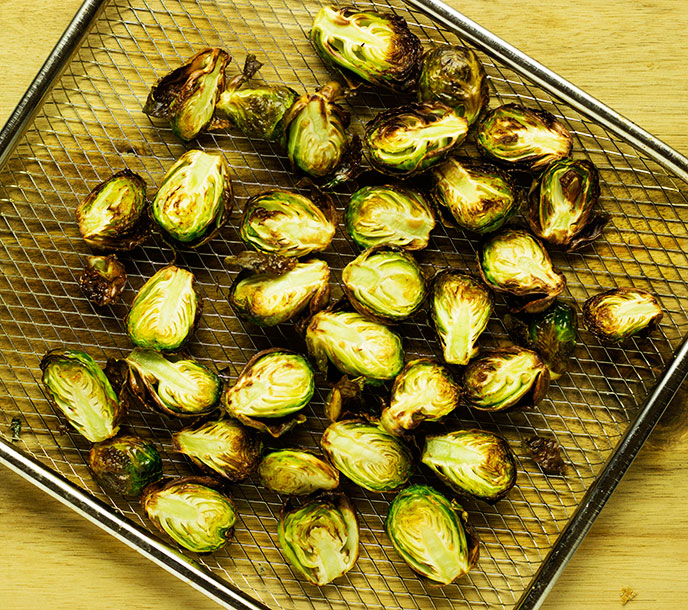 If you are looking for a new way to prepare Brussel Sprouts, I highly recommend giving this recipe a try. Even if you don't like Brussel Sprouts, I would still recommend trying this recipe as the air fryer adds a delicious taste to the Brussel Sprouts.
Can you do veggies in an air fryer?
A thousand times yes! As an added bonus, vegetables taste even better when using an air fryer vs a regular fryer. The process is very fast as well.
This recipe only takes 15 minutes to make. Vegetables taste great when they come out of the fryer which is one of the reasons these types of fryers are becoming more and more popular.
Is cooking vegetables in an air fryer healthy?
Of course! These are much healthier to cook in an air fryer vs a regular fryer because regular fryers add a lot of unhealthy aspects such as extra fat to the vegetables as well as decrease the healthy benefits the vegetables originally had. Not to mention the vegetables can be frozen and you can still air fry them.
In my opinion, I think air fryers make vegetables taste better than regular fryers. If you have kids like me, this is great for when you are trying to get them to eat healthier.
And if your kids are anything like my kids, they will only want to eat vegetables if they have been made using the air fryer. Beggars can't be choosers. As long as my kids are healthy, I'm happy and I'm sure you feel the same as well.
What vegetables are good to air fry?
Brussel Sprouts of course but some of my other favorites are broccoli, bell peppers, and even tomatoes. Air fryers add a crispy taste to the vegetables which make them taste delicious. That crispy taste is why I always like to prepare vegetables using an air fryer.
Carrots is another one I like to fry a lot. It makes them taste better and it takes no time at all. If you are feeling a little adventurous, try frying butternut squash. Butternut squash comes out great if you air fry them.
What makes a good air fryer Brussel Sprouts recipe?
A little bit of kosher salt can go a long way. I already like the taste of Brussel Sprouts but I understand that not everyone feels the same as me. The added kosher salt does wonders for the taste so if you aren't a big fan of Brussel Sprouts, try adding in some Kosher salt to make them taste better.
Of course, the quality of the Brussel Sprouts is important as well. Fresh ones taste amazing so I would recommend going to your store and getting the freshest Brussel Sprouts they have. It will make them taste much better in the end.
With that being said, let's talk about the ingredients!
OTHER RECIPES YOU'LL LOVE
Air Fryer Brussel Sprouts
Air fried brussel sprouts ready in just 15 minutes1
Ingredients
1 pound of Brussel Sprouts
1 tbsp of olive oil
1/2 teaspoon of kosher salt
Instructions
Start out by trimming the pound of Brussel Sprouts you have. Be sure to halve each piece.
Grab a medium-sized bowl and add in the Brussel Sprouts, olive oil, and kosher salt. Toss them to combine.
Add the Brussel Sprouts into the air fryer and shake into a single layer. Cook them at 375F for 15 minutes. Halfway through this, flip the Brussel Sprouts.
Remove the Brussel Sprouts and enjoy!
EXPLORE MORE
That's all there is to it. This is very fast to make as it only takes 15 minutes. If you are ever wanting a quick healthy snack, this is the way to go. It makes a perfect snack and a side dish for dinner.
Feel free to try other vegetables as well. If you liked this recipe, maybe consider giving broccoli a try. Either way, I hope you enjoyed the recipe!