A classic, grilled bratwurst is always a fan favorite, but it's not often that we actually have time to drag the grill out and fire it up on a weeknight. Luckily, a good friend showed me this revolutionary new brat recipe at a recent neighborhood barbecue.
I felt guilty about how many times I kept sneaking back to the buffet table to load up my plate with these beauties and knew I absolutely had to get the recipe for myself. I almost couldn't believe my ears when my buddy told me that he had actually cooked these brats using an Instant Pot instead of the grill. It suddenly became possible for my family and me to eat bratwurst for dinner on a weeknight.
Before we get started, I feel like we should address some common brat questions that any of my other home chefs might have:
Can I cook brats while frozen?
With an instant pot, anything is possible. Normally, forgetting to remove your brats from the freezer on time would force you to either boil them or push the meal back a few hours. Cooking frozen brats in an Instant Pot is completely safe.
What temperature should my brats be cooked to?
You should cook bratwurst until it reaches an internal temperature of about 160 degrees Fahrenheit.
How can you tell when the brats are done?
The brats are done cooking when the outside turns a reddish brown color and the internal temperature reaches 160 degrees Fahrenheit.
What Makes This Recipe so Great?
As I said before, firing up the grill on a weeknight just to cook bratwurst is a hassle. Opting to use the Instant Pot makes preparation, cooking and cleaning significantly easier. Using an Instant Pot also helps the meat retain its juiciness, making for a much more flavorful brat than the one you could achieve cooking on a grill. The Instant Pot helps all the flavors from the butter, vegetables, meat, and seasonings come together in beautiful harmony that you just can't achieve with other cooking methods.
Of course, the Instant Pot isn't necessarily doing all the work. In order to really make this recipe shine, you have to opt for the freshest, most delectable ingredients available. Fresh onions and bell peppers will impart the greatest amount of flavor to the meat. If possible, you should purchase your brats from a local farmer's market so you can be sure that you're getting the freshest meat with the least amount of preservatives. Additionally, supporting local businesses is always a plus, especially during this pandemic when they're struggling the most.
Anyway, you've been listening to me blather on and on about how great these brats are for long enough. It's about time we jumped right in and got to the recipe itself.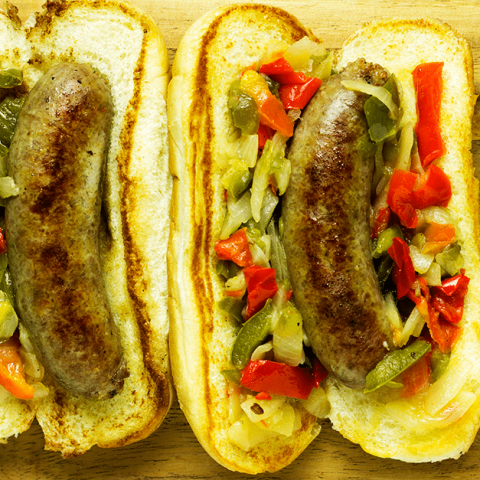 Instant Pot Brats
Delicious instant pot brats recipe!
Ingredients
5 links of Bratwurst (whichever type you love best)
5 toasted long rolls or buns
3 tablespoons of unsalted butter
2 medium sweet bell peppers, sliced or chopped
1 large sweet onion, sliced or chopped
1 teaspoon of ground black pepper
1 teaspoon of salt
1/2 cup of fresh water
Instructions
Turn on your Instant Pot and set it to high. Toss in the butter and cook until it's completely melted.
Add the bratwurst. Toss it in the butter and cook, turning frequently, until the links are browned on all sides. Make sure each link has an even coating of butter. Remove from Instant Pot and set aside in a separate bowl.
Add the sliced bell peppers, sliced onion, salt, and pepper to the Instant Pot. Saute in the same setting (high) until the veggies are tender (about 3 minutes).
Push the warming button on the Instant Pot to deactivate the saute setting.
Return the brats to the Instant Pot. Pour in the water and place the lid on the Instant Pot. Set the valve to seal the lid shut and activate the manual cooking setting. Set the timer to 5 minutes.
Serve the brats on the toasted buns. Top with the sauteed bell peppers and onions. Enjoy!
EXPLORE MORE
Didn't I tell you this recipe was super easy and delicious? Your kids are guaranteed to come back for multiple helpings after they taste these beauties. The recipe is super easy to time, as well, making it easy for you to have these brats ready to serve as soon as they come in the door from sports practice or any other evening extracurricular activities they may have. Bon appetit!